Margaret Nelson: Luweero, UGANDA, AFRICA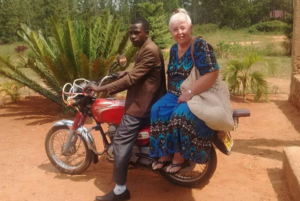 Margaret is serving at New Life Church in Luweero, central Uganda, a rural area knowing as the Killing Fields of Uganda's civil war. Luweero means "Place of Destruction." Close to a million people died between 1980 and 1986; one of three mass graves in the area is within walking distance of her home.
Margaret teaches Bible each Sunday morning at New Life Church, and on Mondays she sponsors a village savings & loan meeting in her home, where people learn to manage savings and borrowing. Following that group is the class, Business Without Regrets, training the same people how to develop and operate small businesses.
In 2014 this ministry obtained their Certificate of Incorporation, which legally registered them with the Ugandan government. The name Village Educational Centre, Ltd. was adapted. Then in 2017 Village Educational Centre, Ltd. also became an NGO (non-government organization), which gives them further validation with the government.  During this time the ministry has done community outreach via small income generation projects, starting with agriculture, dairy, chickens, and one small retail shop.
In the near future, New Life Church will be constructing a new church building with the assistance of a Korean outreach ministry in Uganda called Union Vision Mission. After the New Year and the building construction, Village Educational Centre will be starting a pastor-training center, outreaching rural pastors. Such leaders suffer from lack of education, which causes proliferation of syncretism, witchcraft and cults. Most ministry outreaches and Bible colleges are limited to urban areas, so this is both a challenging and extremely needed area of ministry. Pastors will be taught not only basic theology but also income generation, village level health and veterinary care. Check out the website for more information.